MORE POUNCE TO THE OUNCE!
<![if !supportEmptyParas]> <![endif]>
Our Cat's Delight Naturally Grown Catnip offers your cat the chance to frolic in our freshly picked and packed product. Cat's Delight has been cat tested and approved ~ many of our customers actively seek out our stand at two local farmers' markets, and we have successfully sold many jars of Cat's Delight through eBay.
Our product is picked on the sunniest mornings, gently dried at low temperatures and packed immediately. We try to include dried buds and flowers as well as leaves in our mix. We don't warehouse our product for long periods of time. This ensures that your cat gets the most catnip bang for your buck, and offers you a longer shelf life for the product as well.
Cat's Delight is now available in five sizes - trial size (a one-ounce spice jar containing approximately 1/4 ounce of dried product), one-cat size (a lightweight recloseable bag containing 1/2 oz., or 1/4 c. in volume) and multi-cat size (a recloseable bag containing 1.5 oz. or approximately 2 cups in volume.)For bulk purchases, we offer the 4 oz, 8 oz and 1 lb. zipper bags.
We ship via USPS priority mail, both domestically and internationally. (All international buyers should check with local departments of agriculture prior to purchase - many countries restrict import of agricultural products. International purchasers are also responsible for customs and VAT taxes.) Best yet - we accept PayPal for all orders, and can ship worldwide**.Order your Cat's Delight today, and have a houseful of happy cats tomorrow!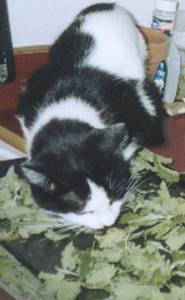 Moe quality checks the product prior to packaging.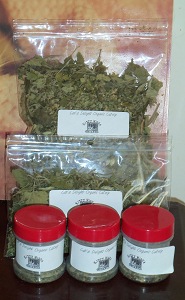 Shown are all of our Cat's Delight package sizes
International shipping rates apply to Canada and Mexico. For destinations outside of North America, please request price quote for shipping.
Want to try before you buy? Click here for a free sample package of Cat's Delight.